Now Here's Where It Gets Exciting
The Old Testament points to the New Testament. The trumpet calls which figured so prominently in the calling of God's people for His purposes in Old Testament times are also prominent in the rapture call! Look at the buildup starting in Joel, who clearly looked toward a future day:
The Day of the Lord
"Blow ye the trumpet in Zion, and sound an alarm in my holy mountain: let all the inhabitants of the land tremble: for the day of the LORD cometh, for it is nigh at hand;" (Joel 2:1)
Return to the Lord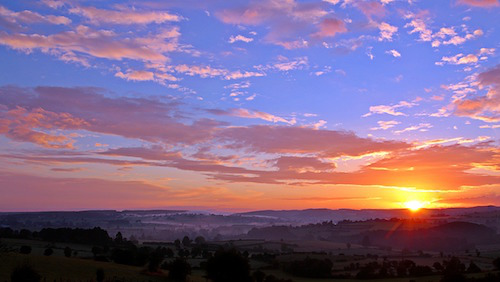 "Therefore also now, saith the LORD, turn ye even to me with all your heart, and with fasting, and with weeping, and with mourning: And rend your heart, and not your garments, and turn unto the LORD your God: for he is gracious and merciful, slow to anger, and of great kindness, and repenteth him of the evil. Who knoweth if he will return and repent, and leave a blessing behind him; even a meat offering and a drink offering unto the LORD your God? Blow the trumpet in Zion, sanctify a fast, call a solemn assembly: Gather the people, sanctify the congregation, assemble the elders, gather the children, and those that suck the breasts: let the bridegroom go forth of his chamber, and the bride out of her closet. Let the priests, the ministers of the LORD, weep between the porch and the altar, and let them say, Spare thy people, O LORD, and give not thine heritage to reproach, that the heathen should rule over them: wherefore should they say among the people, Where is their God?" (Joel 2:12-17)
THE TRUMPET'S FINAL CALL WILL BE FOR US!!!
When we see the five purposes of the trumpet call in the Old Testament, we are astonished to see how they parallel our trumpet call to gather the church. Notice the corresponding purposes:
To announce God's presence (Revelation 1:10)
To gather together/assemble the church and meet Him in the clouds (1 Corinthians 15:52; 1 Thessalonians 4:16; Revelation 4:1, and later - Matthew 24:31)
To call the saints and angels to battle during the tribulation (Revelation 8:6, 13; 9:14) and when He comes back WITH His saints (Revelation 19:11-21)
To coronate our King, Jesus Christ (Revelation 8:2; 11:15-17)
To warn people of the danger of refusing to believe Christ (the whole world will be warned after seeing the rapture happen before their eyes)
NOTE: This is the ninth of a 10-part series on this topic taken from Principles for Overcoming in Spiritual Warfare, Copyright © 2016 Paul D. Norcross.
Part10 finishes with what we should be doing while we await the Lord's return!