Today I taught the story of Joseph (Gen 37-50). He was so remarkable, walking with God through attempted murder by his brothers, then contravened by brother Judah's intervention (the Christ-line patriarch) and sold instead into slavery in a foreign land.
Through it all, God prospered Joseph. Potiphar bought him as a slave and saw God was with him. Potiphar promoted him. Thrown into prison for resisting seduction and victimized by a lying accusation, 17 year old Joseph's favor of God so impressed the Pharoah's head warden that Joseph became the overseer of the prisoners, and later (12 to 13 years) Pharoah's primary right hand administrator over the entire nation.
"Can we find such a one as this is, a man in whom the Spirit of God is?" he exclaimed.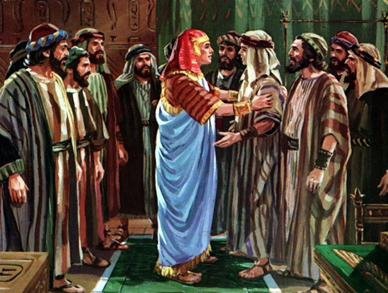 Joseph's confession in his darkest hours was dramatically illustrated as he answered his brothers upon the death of their father Jacob. The brothers were afraid that Joseph would retaliate against them for having sold him into slavery years before.
Look how Joseph responded:
"But as for you, ye thought evil against me; but God meant it unto good, to bring to pass, as it is this day, to save much people alive." (Genesis 50:20)
Only God could heal his heart and have enabled such an answer!
Joseph was God's end-run around satan's attempt to stop the Christ-line, first by trying to introduce the curse of shedding innocent blood on the future generations of Israel, and second by introducing the ten generation bastard curse on Judah's line (Genesis 38).
Almost a full quarter of the book of Genesis is devoted to Joseph's story of forgiveness, God's favor, Messianic prophecy, and types that point us to His redemption.
How awesome our Heavenly Father is to the people of His praise! How much He loves all who choose to praise Him through trials, who realize what satan means for evil, God will turn for good!