A new year brings hope, a sense of new beginnings and better days. For many, it's a time to redefine goals and sharpen our focus on what is truly important.
As Christians, perhaps now more than ever we need to stay strong in the Lord.
"Be strong in the Lord and in his mighty power." (Ephesians 6:10)
This verse begins a section of scripture—Ephesians 6:10-17—which gives us the crucial reminder that at its core, life is spiritual. We're to "put on" the armor of God to ready ourselves for the spiritual battle at hand, and to be victors in this life through Christ.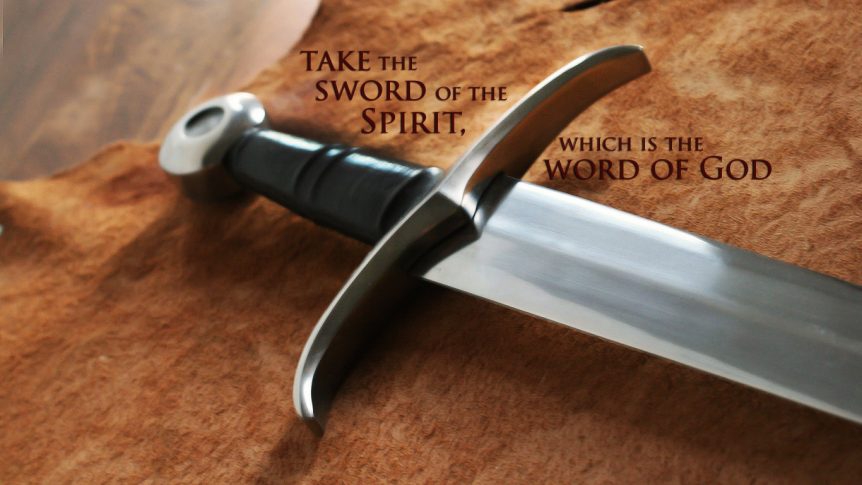 The armor we're told to put on is the:
Belt of TRUTH
Breastplate of RIGHTEOUSNESS
Sandals of PEACE
Shield of FAITH
Helmet of SALVATION
Sword of the Spirit—the WORD OF GOD
The armor of God is more than just a protective covering—it's the very presence of Christ Himself. By putting on the armor of God, life becomes no longer about simply fulfilling our own desires, but allowing ourselves to be transformed into His likeness, so we may carry out His work in the world.
As the only offensive weapon on the list, the sword of the Spirit is significant!
From the original Greek, verse 17 reads: "the sword of the Spirit is the word (rhema) of Christ."
A rhema (word) is a "speaking." This certainly includes the written word of God. In the gospels we see Jesus, when confronted by the devil, bolding proclaiming "It is written . . ." as He quotes from the Old Testament.
Most notably for us today, a rhema is also a speaking by the Holy Spirit into our Spirit—a revelation word for a specific situation in the moment. The rhema of Christ must be wielded like a sword—spoken out and acted upon—to yield the results God desires.
God has given us this magnificent imagery of the armor so we might draw near to Him and experience His presence and power—thereby enabling us to be victorious in the spiritual battles of life.
The power of God is demonstrated by the rhema of Christ.
Perhaps our greatest goal for the new year should be to sharpen our swords—to spend more time in His presence, to learn to hear His voice as He speaks rhema words to us—and to proclaim His word, His power, and His love to the world around us greater than ever before.
At KFMI, we want to start the new year strong—strong in the Lord, equipped with the full armor of God—living day by day in His presence.
Will you join us?
Copyright © 2019 Cheryl Elton/In His Presence Blog