Lessons From The Mayflower
Tuesday, December 1, 2020 by Dr. Paul D. Norcross
The Mayflower Compact was the first covenant agreement in the new world that later became the United States.

Crafted and signed after more than 12 years of escaping religious persecution in England where the penalty for owning a Bible or meeting for worshipping God was death or imprisonment, the Mayflower Compact was the first binding agreement in the Americas that recognized:
The existence of equal and God-given rights to people.
That those rights are implicitly above and superior to permission from kings and other government officials.
These are no small concepts. The people own the right to self-governance. And those rights are protected and embodied in what we now know as the Constitution of the United States.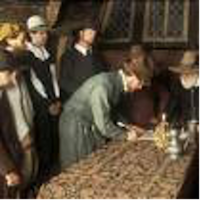 Here is how The Mayflower Compact reads:

In the name of God, Amen. We whose names are underwritten, the loyal subjects of our dread Sovereign Lord King James, by the Grace of God of Great Britain, France, and Ireland King, Defender of the Faith, etc. Having undertaken for the Glory of God and advancement of the Christian Faith and Honour of our King and Country, a Voyage to plant the First Colony in the Northern Parts of Virginia, do by these presents solemnly and mutually in the presence of God and one of another, Covenant and Combine ourselves together in a Civil Body Politic, for our better ordering and preservation and furtherance of the ends aforesaid; and by virtue hereof to enact, constitute and frame such just and equal Laws, Ordinances, Acts, Constitutions and Offices from time to time, as shall be thought most meet and convenient for the general good of the Colony, unto which we promise all due submission and obedience. In witness whereof we have hereunder subscribed our names at Cape Cod, the 11th of November, in the year of the reign of our Sovereign Lord King James, of England, France and Ireland the eighteenth, and of Scotland the fifty-fourth. Anno Domini 1620.

The United States endures because of the blessings of God, secured by His providence, and sustained by those who choose to worship the Lord Jesus Christ. It is, and has always been, a Christian nation that insisted on freedom of worship and free assembly. These freedoms are what the Pilgrims came to America to establish once and for all.

Neither by kings, nor the laws they create, shall the God-given rights of His people be infringed, in the name of the king of Kings, Jesus Christ, Amen.

From our hearts to yours with much thanksgiving,

--Paul and Rita Norcross
---
---