We regularly receive letters from pastors who have attended a Kingdom Faith Ministries International School of Ministry. Here's a sampling of their testimonies—may the Lord be praised!
My life totally changed when I started attending the Kingdom Faith Ministries International School of Ministry. After prayers one day I heard Pastor John Amos on the radio talking about how to hear the voice of God. Now we know who the Holy Spirit is, how to function in the gifting, and above all how to hear God's voice in every thing. We have seen our church grow from nine branches to twenty-two branches.
Bishop Samuel, Christ Solid Rock Church, Kenya
---
It is a great challenge to be called to minister as a woman in Africa. I was invited to attend the Kingdom Faith Ministries International School of Ministry three years ago.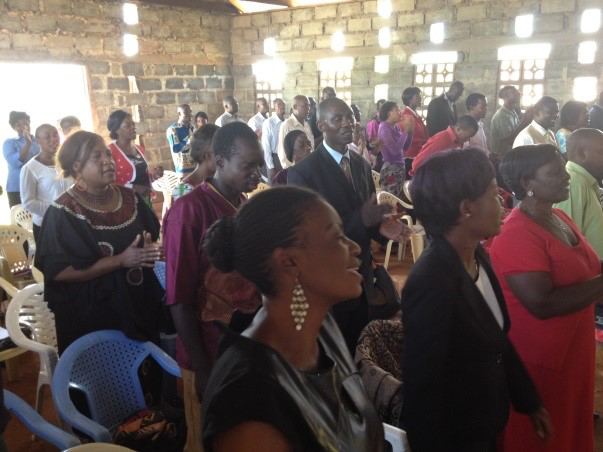 Now things have changed after attending the training. I learned the importance of relying on the voice of God and not doing ministry by copying others. We learned how to practice hearing God's voice and praying in tongues all the time. The most powerful teaching that changed me was when we learned how to succeed in spiritual warfare and how to dine at the Master's table, being in the presence of God. Our church has grown from ten people to over seventy adults. People now recognize my ministry.
Pastor Rose, Jesus Manifestation Glory Center, Kenyan, Kenya
---
I thought I was better than many pastors from the coastal region because I had gone to a better Baptist bible college and had a good Christian background. In the early years we had over 600 people coming to our church. Everything seemed well until we started having disagreements in our leadership. The numbers fell down to less than 40, and each time there was a disagreement the church split. This continued on and off until I was almost ready to give up.
One day a friend introduced me to Kingdom Faith Ministries International School of Ministry in Mombasa. I learned how to wait upon the Lord in His secret place, and how to dine at the Master's table. These took me back to God.
I started making spiritual warfare as the Holy Sprit led me to pray for the area. I didn't know that the forces working against the church were coming from the Muslim community who practiced witchcraft. This had made the area hard for the Gospel to penetrate. I had been teaching people theology but not the Rhema word from God. When I started practicing your teaching my church began growing again. We have grown from 40 to 356 members in two years.
Rev. Charles, Kenya
---
I am a bishop overseeing 48 churches of Abundance Grace Church International in Kenya. After many years of ministry I had not found a solution to stopping the false doctrines that are mushrooming all over the cities, towns, and villages.
The church in which I minister is in the slums near Nairobi. Here there is a high population of people who are living under many curses of poverty and sickness, and there is practice of the occult. This has brought major confusion into the body of Christ. The enemy has taken advantage of the ignorance of the people and manipulated them through false signs and wonders worked by the occultists.
Your teachings have shined light into our hearts. After attending a School of Ministry with some of the other pastors I oversee, we have been able to learn step-by-step how to listen to the voice of the Lord Jesus Christ, and respond by obeying Him. We started teaching this to our church leadership and we have seen great fruit resulting.
Many of the pastors from our region are going out in public naming and condemning the false prophets who are misleading people. We are teaching people the operation of the gifts of the Holy Spirit, which had never been taught to us and has resulted in great growth in all our churches.
As a Region Director for Nairobi, I am dedicated to helping many pastors get these teachings. God Bless you so much.
Bishop George, Kenya
---
My wife and I are senior pastors of Bethlehem Revival Chapel. We oversee 17 branches of our sister church.
I have been a student of the KFMI School of Ministry for three years. We have benefited in your teachings as a church especially on how to listen God's voice. Your teachings in Dining at the Master's Table, The Voice Upon the Waters, and In The Secret Place have helped me in establishing the church.
For most of my life I lived with great bitterness in my heart against my parents, especially my father who mistreated me since I was a little boy. I felt rejected and lived in great fear because any mistake I made I was brutally punished. We didn't talk for many years.
Now things have changed. When you were here you prayed for us and the Lord helped me to forgive my father. I went home and sat with him. We talked for a long time and he said, "My son I have forgiven you." He then gave me three acres of land as my inheritance. We are now on good terms and I am now planning to build a house on this piece of land. Thank you so much for these teachings. God bless you.
Pastor Joseph, Kenya